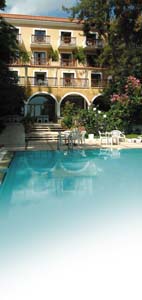 The Hotel Pendeli in Platres, Cyprus
The 3rd IOTM will take place in the Pendeli Hotel. It will accommodate the participants as well as the conference itself.
Here is what the hotel owners say about their house:
« The family run Pendeli Hotel located in the heart of the beautiful mountain resort of Platres amidst a forest of fragrant pines, offers traditional Cypriot hospitality in combination with modern facilities.
The hotel has been in the Panayides family since the 1940's when the hotel began as a country house letting rooms. Through the years more rooms were added as well as a restaurant and a tea room.
In 1992 after a complete rebuilding where nothing of the old building remained except the pine trees that now shade the gardens the hotel reopened its doors as a 3 star property. The hotel prides itself in providing comfort without extravagance, and the management now in the hands of the 3rd generation of hoteliers, a Cornell University graduate.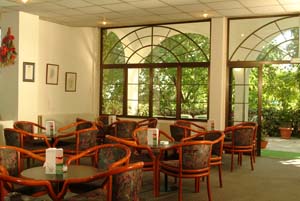 There are 81 guestrooms, including three suites and seven junior suites. All guest-rooms are tastefully decorated, comfortably furnished and equipped with central heating, ceiling fan, fitted carpet, a three-piece bathroom, colour television, direct dial telephone, hair dryer, clock radio and private balcony, most overlooking the valley and the surrounding countryside.
The Pendeli's public areas are the Nightingales café, The Laurels Dining Room and Veranda, The Robin's Nest bar (with fireplace for the winter months) and The Cedar Rooms. Other facilities include: a heated open-air swimming pool (open from May until November) with pool bar and gardens; a fitness room, jacuzzi, sauna, a small library, a gift shop, a games room and a toddler play area. Amongst the spa services are Reiki massage, aromatherapy and reflexology sessions and Indian head massage.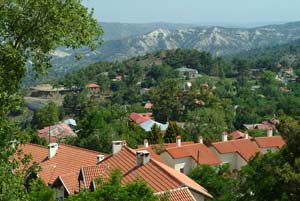 From The Pendeli one may pursue a variety of activities including nature walks, mountain bicycling, and photography. Horseback riding is available from Troodos square during the summer months. During January, February and March skiing at the nearby Troodos centre is usually possible. Nature walks include amongst others the Caledonian Waterfalls trail, the Millomeris Waterfall trail, and the Pouziaris trail. From Platres one may visit the traditional villages of Omodhos, Pera Pedhi, Phini and Lofou and the famous monastery of Cyprus Kykko with its Byzantine museum. Limassol and the coast are only a 40-minute drive to enjoy a day at the beach. »
Hotel Pendeli
P.O. Box 59045
4825 Platres, Cyprus
Telephone: +357 25 42 17 36
Fax: +357 25 42 18 08
info@pendelihotel.com
www.pendelihotel.com